Touch Metronome: the only metronome app you'll ever need.
Introducing a brand new metronome app!
If you're a musician, no doubt you've tried some of the various metronome apps available for iOS. However, perhaps you felt that something wasn't quite right, or that the app just felt awkward to use.
The Touch Metronome is different. A high quality, intuitive app developed by musicians, for musicians, that transforms your iOS device into a fully-fledged digital metronome.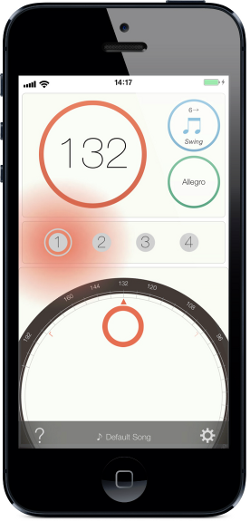 Simple, one finger operation
Set the metronome tempo using the large, intuitive dial, by standardised Italian tempo markings, or in precise 1 BPM steps – all by simply swiping one finger. You can also set the number of beats in a bar, accented or muted beats, and the rhythm pattern, again all from the same screen by swiping your finger.
The Touch Metronome app has developed for comfortable, intuitive operation, allowing musicians to concentrate on practicing music.
Your metronome, your layout, your design
The Touch Metronome has a clean, elegant, and modern UI design, that looks and feels like a native iOS7 app.
The size, colour, and position of each dial are freely customisable, while unrequired controls can be easily hidden using the extensive settings panel. Add personality to your metronome with custom wallpaper backgrounds, which can even be set to flash on accented beats.
Superior performance and functionality
A metronome should be clear, accurate, intelligible, and easy to use. The Touch Metronome app is developed by a world-renowned musical instrument company, with over 85 years of knowledge and experience. Despite its inexpensive price, the Touch Metronome features numerous premium features, such as tap-to-set tempo, adjustable beat settings, selectable sounds, a realistic pendulum animation, and numerous other great features.
Download on the App Store

Compatibility
Requires iOS/iPadOS 11.0 or later.
Compatible with iPhone, iPad, iPod touch.
Languages
English / Japanese