Create professional-looking musical scores by hand
What's New in Version 1.1.001

Added support for entering and editing drum notation.
Added 5 new score templates that include drum percussion.
Added support for entering grace notes.
Added support for writing abbreviation symbols.
Added ability to resume score playback using a > gesture
Create professional-looking musical scores by hand
Touch Notation is a powerful musical score creation app that allows anyone to enjoy writing music using touch gestures.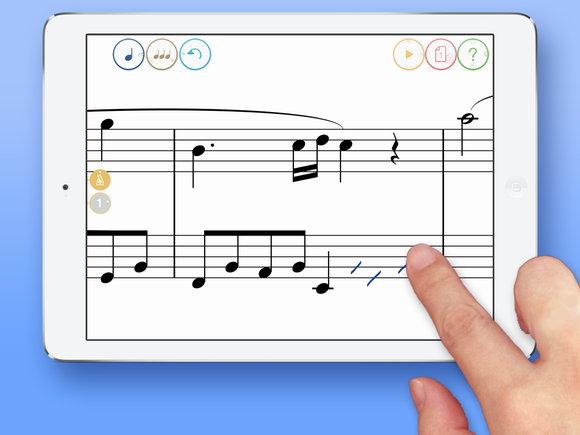 A new approach to notating music
Up until now, musical score creation software has relied upon dragging individual notes from a palette onto staves. By contrast, Touch Notation allows musicians to draw directly onto the score using a finger or touch pen, and have their work immediately appear as beautifully-written notation, then played back using the app's 30 built-in instrument voices.
Accurately reproduce notated scores of any level
Touch Notation allows all musical symbols to be written and accurately played back. Standard musical expressions such as changes in tempo and dynamics can also be easily added, along with original expressions created by adjusting existing presets. Touch Notation supports multi-part scores, allowing choir, woodwind, and brass ensemble pieces to be written with ease.
Easy-to-use user interface
Touch Notation adopts a unique circle-based control interface, consolidating multiple related functions into each button. This allows a clean, uncluttered layout, and maximises the score creation workspace on smaller-screened devices. In addition, the pull-out play control bar works in conjunction with each part of the score, providing access to part volumes, panning, and voice selection when needed.
Convenient output functions for sharing scores
Completed scores can be emailed as PDF attachments, printed using an AirPrint-compatible printer, or saved directly to cloud services such as Dropbox for sharing creations with friends and band members. Scored data can also be output in SMF and Music XML formats, allowing additional editing in other software, and effortless integration with teaching and music production environments etc.
Wide variety of additional features
Touch Notation provides a wide range of additional features to assist scoring music, including:
Immediately raise or lower the pitch of the score with the Transpose function.
Automatically reposition notes and other symbols for accurate timing with the Spacing function.
Write freehand comments and memos directly onto the score with the Memo function.
Prevent wrists and fingers accidentally entering notes using the Wrist Guard function.
See an overview of the entire score while working on an area with the Navigation View function.
Manage all scores and music from a central location using the Library Screen.
Immediately check how to enter notes and symbols using hand gestures with the built-in Help Videos.
Download from the App Store

Supported OS/models
Requires iOS/iPadOS 11.0 or later.
Compatible with iPhone, iPad, and iPod touch.
* Older devices may experience stuttering when playing complicated scores with many simultaneous notes. Users are recommended to test the free version of Touch Notation in order to assess the app's performance on their device.