Touch Tuner: the only tuner app you'll ever need.
Introducing a brand new tuner app!
If you're a musician, no doubt you've tried some of the various tuner apps available for iOS. However, perhaps you felt that something wasn't quite right, a feature was missing, or that the app just felt awkward to use.
The Touch Tuner is different. A high quality, intuitive app developed by musicians, for musicians, that transforms your iOS device into a fully-fledged digital tuner.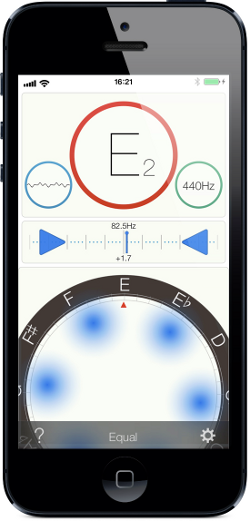 Excellent control and visibility
The Touch Tuner features a large tuning dial that clearly displays the current note name. The waveform and spectre of the input sound are also clearly displayed, allowing extremely accurate tuning and making the frequent task of tuning-up a more enjoyable experience.
Your tuner, your layout, your design
The Touch Tuner has a clean, elegant, and modern UI design, that looks and feels like a native iOS7 app.
The size, colour, and position of each dial are freely customisable, while unrequired controls can be easily hidden using the extensive settings panel. Add character to your tuner with custom wallpaper backgrounds that express your personal music tastes.
Superior performance and functionality
Switch between automatic and manual tunings modes by simply touching and holding the large tuning dial – the pitch pipe will be available for use immediately, without delay. Flexible settings allow the tuning sensitivity to be adjusted for different instruments, voices, and environments, providing an accuracy of ±0.1 cent. Classical temperament tuning methods can also be selected, along with A4 pitch calibration and numerous other useful features.
Download on the App Store

Compatibility
Requires iOS/iPadOS 12.0 or later.
Compatible with iPhone, iPad, iPod touch.
Languages
English / Japanese